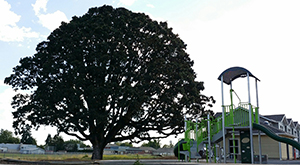 Alona Place
40 one, two and three-bedroom units
Junction City, OR
Completed August 2016
Alona Place opened in August 2016 bringing to Junction City its first affordable family housing in decades. Alona Place is nestled among established neighborhoods and borders the Junction City High School campus. Its centerpiece is a heritage white oak, and the design leaves natural space for the tree's continued health.
Eight one-, 20 two- and 11 three-bedroom units comprise Alona Place. Each is equipped with kitchen appliances, is cable-ready, and has a patio. Tenants enjoy a centrally located community room, on-site laundry, and a community garden.
Each unit has a designated parking space. Visitor parking is available. A state-of-the-art playground is situated near the tree that inspired the Alona name, which is Hebrew for oak.
Three of Alona's units are ADA compliant. Pets are allowed with an additional deposit.
Alona Place is located at 1170 West 1st Ave. in Junction City, Oregon. Heritage oak stands guard over its namesake.