St Vincent de Paul of Lane County Society of Lane County (SVdP) is an anchor in the community: from one-of-a-kind programs addressing education equity for children and youth experiencing homelessness, to emergency shelter programs, to our deep inventory of affordable housing, SVdP provides an unparalleled level of vital services.
SVdP has a long history of pivoting to meet community needs through unique, innovative programs. SVdP is adept at nimbly responding to community need due to our commitment to serving our unhoused neighbors, and our deep reservoir of highly skilled and experienced homelessness services staff. has a proven track record of developing and managing affordable housing projects, including the acquisition, stabilization and rehabilitation of over 8 mobile home parks. SVDP has received and managed hundreds of both government and foundation grants over its 62-year history, and has successfully managed and reported on all of the grant funding it has received. Moreover, SVPD is a nonprofit that generates the bulk of its revenue for social service programs through its extensive recycling and upcycling businesses. Those revenues are capable of sustaining this and other grant programs in the long term.
Upcoming projects include …
New 8-plex at The Annex on Amazon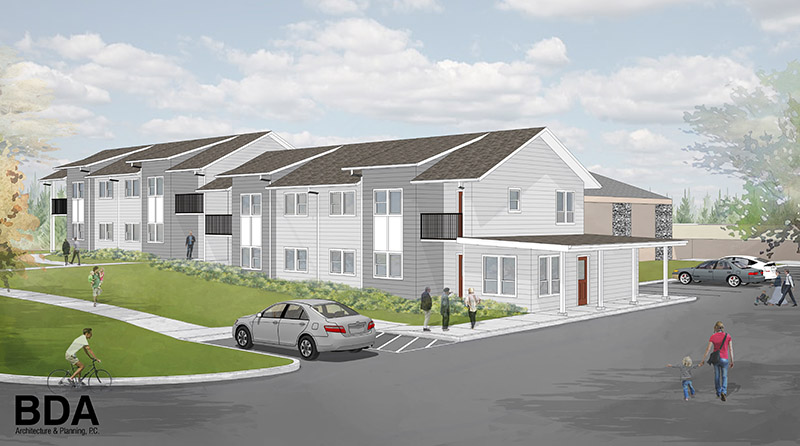 SVdP broke ground July 12 on a new eight-unit transitional housing apartment complex adjacent to SVDP's First Place Family Center at The Annex, 4060 W. Amazon Pkwy. This supportive housing resource for local families working to transition out of homelessness — intended to bridge the daunting gap they face between emergency shelter and long-term housing — is made possible by a $2 million donation from Eugene-based online I.T. training company CBT Nuggets.
This long-anticipated development, the result of several years of collaboration between SVdP and CBT Nuggets, will create life-changing opportunities for families in crisis. Transitional housing of this type is often a missing rung in the ladder of local resources available to help unhoused families ascend from temporary emergency shelter to permanent housing.
"We have learned that there is a critical gap between emergency housing and sustainable, affordable housing solutions for families in Lane County," reads a statement from CBT Nuggets' philanthropy and social-responsibility arm, NuggetLove. "This leads many families to get locked in an inter-generational struggle for housing and financial stability, and a continued reliance on our already taxed social systems. We believe that by enabling families to move from emergency shelter to supportive housing, ideally along with the case workers they have built supportive relationships with, there is a better chance for these families to achieve long-term stability."
The new property will include eight two-bedroom, one-bath apartments of about 800 square feet each; a common laundry area for residents; and an office/meeting space enabling families to meet as needed with with case managers, service providers, and others. It will provide a safe harbor where families can anchor long enough — out of crisis and with a roof reliably overhead — to focus on the work necessary to secure lasting stability in housing, employment, and more.
"This new source of transitional housing for families could truly have a generational impact on poverty and homelessness," says SVdP Executive Director Terry McDonald. "We applaud CBT Nuggets for this generous donation, which will leave a lasting brick-and-mortar reminder of the company's caring investment in our shared community. Most importantly, the gift will allow some of our most vulnerable neighbors to change the course of their families' futures."
SVdP worked with longtime partner BDA Architecture and Planning, P.C. for the design of the new transitional-housing property. An eight-month construction timeline is projected, with another longstanding partner, Meili Construction, serving as SVdP's general contractor.
SVdP's emergency services staff are working internally and with community partners to establish resident qualifications, maximum length of stay, rental subsidy sources, and other operational details ahead of the property's planned opening in spring 2023. While rigid guidelines dictate the operation of publicly funded transitional housing projects, CBT Nuggets' private donation will afford SVdP maximum flexibility to design a program that will best serve clients and the community.
What's currently clear is that existing emergency shelters often can't accommodate the length of stay required for families experiencing homelessness to create lasting change. SVdP's Night Shelter Annex, for example, provides emergency shelter for as many as 22 families at a time but necessarily limits each to a 90-day stay so it can serve additional families.
As the 8-plex begins to take shape, an outsized measure of optimism per square foot will materialize within the four walls of each apartment. Hopeful families will soon come home here, one step closer to happier, healthier, more securely housed futures.
Veterans' housing 10-plex at 101 Green Ave.
St. Vincent De Paul Society of Lane County, Inc. (SVdP) is developing 10 units of transitional housing for veterans experiencing homelessness on Green Lane! The project is a partnership with the US Department of Veteran's Affairs Grant and Per Diem Program. On-site resident services, including case management, will be included as part of the project with the goal of connecting residents to services and benefits, increasing incomes and supporting the transition to permanent, stable and affordable housing. Construction is expected to begin next year.
10 one-bedroom units
Transitional housing program where residents can stay up to two years
Serving veterans experiencing homelessness
On-site resident services provided, including case management
Goal of program to increase resident incomes to transition to stable housing
Partnerships with US Department of Veteran's Affairs: Grant and Per Diem Program
Will serve chronically homeless and homeless Veterans which may also include people with mental and/or physical disabilities, people with drug and alcohol addiction, victims of domestic violence, people with HIV/AIDS and people experiencing foreclosure or eviction.
Stay tuned for more updates!
Read more about our services for veterans and their families HERE.