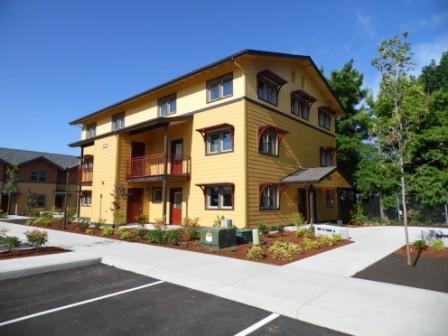 Stellar Apartments

54 one, two, and three bedroom units
Eugene, OR
Completed July 2013
Stellar Apartments is a 54 unit family housing development located just north of the Westmoreland School site at 17th Avenue and City View Street in Eugene. This project includes a mixture of one, two, and three bedroom townhome style apartments and flats.
10 units in the complex are targeted for National Guard families (currently serving or completed deployment), and 4 units set aside for family clients of VetLIFT, serving homeless veterans with families. A large community garden is shared by residents and Lane ESD school programs next door.
All units meet comply with Earth Advantage Certification, which includes Energy Star rated appliances, lighting and windows; low VOC paints, finishes, sealants and adhesive; fresh-air ventilation system designed to promote healthier indoor air; and low-flow water fixtures. In addition, one building (consisting of six units) is built to Passive House standards, with high levels of insulation and other features that will mean extremely low utility bills for tenants. Stellar Apartments is one of the first multi-family housing projects in the country to use these standards.